About us...
This father and son combination with such a versatile repertoire and keen interest in catering for everyone have become known as one of the "Best wedding bands in a Northern Ireland/Ireland"
Bitz 'N' Pieces were named as Weddingsonline.ie Awards ''Wedding Band of the year'' Finalists 2016.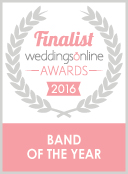 We are proud to be associated with My Ireland Tour Website
If you're interested in Bitz 'N' Pieces Wedding Band for your big day, click on over to the 'Getting Married?' tab across the top to check out our Promotional Video and Audio Clips.
Barry Devlin is the lead vocalist of the band with a keen interest in country but versatile in his renditions of chart music as well as rock music and even some dance music. Barry also plays rhythm guitar in the Band.
Gerard Devlin has been playing in Bands from the age of 15 playing lead guitar and bass in bands along with Country legends Brian Coll and Philomena Begley to name a few..
Padraic, having just recently joined the band is no stranger to the music scene having recently just finished four years in the Johnny Brady Band. He has performed with the Best, throughout the country, Europe, Nashville, you name it. One of the best on the keys keeping Bitz 'N' Pieces Wedding Band the best.