Check out the various styles of Music we could provide for your Special Day..
Want to hear what our Brides/Grooms have to say?
About us...
This father and son combination with such a versatile repertoire and keen interest in catering for everyone have become known as one of the "Best wedding bands in a Northern Ireland/Ireland"
Bitz 'N' Pieces were named as Weddingsonline.ie Awards ''Wedding Band of the year'' Finalists 2016.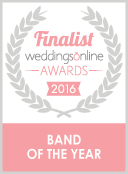 If you're interested in Bitz 'N' Pieces Wedding Band for your big day, click on over to the 'Getting Married?' tab across the top to check out our Promotional Video and Audio Clips.
Barry Devlin is the lead vocalist of the band with a keen interest in all styles of music, allowing them to play to almost any crowd. Barry also plays rhythm guitar in the Band and has recently added the Saxophone to his musical talents.
Gerard Devlin has been playing in Bands from the age of 15 playing lead guitar and bass in bands along with Country legends Brian Coll and Philomena Begley to name a few..
Niall has brought a wealth of musical talent to the band, being versatile with doubling up on instruments, that being Keyboard and Banjo. His versatility compliments this Wedding Bands Wide Range of Music.